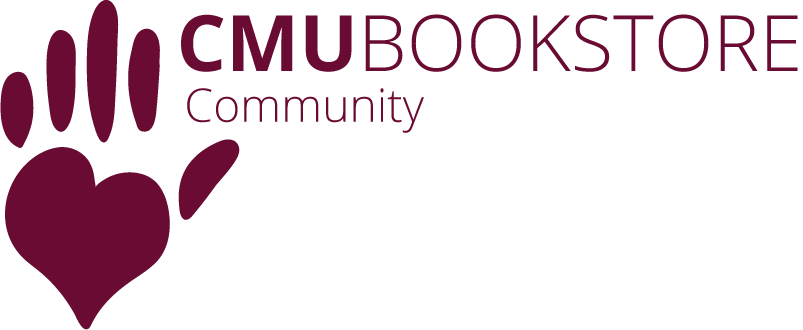 The CMU Bookstore is a part of Central Michigan University, every penny spent in our store goes back to CMU to fund campus programs. The students, faculty, staff, and community of CMU are our focus of everything we do.
We are more than just a store; we are proud CMU Chippewas.
We are mindful of how our business impacts our community, so we like to work with companies that share our commitment to the communites we work in.
GreenWeaver® Cap & Gowns
Did you know that our Cap & Gowns are made from 100% post consumer plastic bottles? Each one of our gowns are made from 23 plastic water bottles. Visit Click here for more information.
M Graham Paints®
M Graham's products and manufacturing are entirely solvent-free. 100% of their power is purchased through renewable power options; they always use post consumer recycled paper products in their packaging; their walnut oil is from black walnut trees that are short rotation energy crops. Visit M Graham to learn more.
Tervis®
Tervis was created in Detroit by Engineers Frank Cotter and G. Howlett Davis in 1946. Though the company changed over the years, this family-owned-and-operated business is still proudly making all Tervis drinkware in America. Not only is Tervis made in America, they also have a Made for Life™ Guarantee. If any Tervis product is defective, such as cracked, heat distortion, film, etc., The Tervis Tumbler Company will replace it.
Decomposition Book®
These eco-friendly books have 100% Post-consumer-waste recycled pages. The covers are printed with Soy Ink, which contains fewer VOCs (volatile organic compounds) than regular, petroleum-based ink. Not only are these books great for the enviroment, they are also made in the USA.
Green Book
During exam week, Professors often require students to buy a Blue Book, an examination booklet. We are happy to carry a green alternative. Our Green Books are exactly the same as Blue Books, but they contain a minimum of 30% Post-consumer waste. So why not make exam week a bit more green?
We love our community! So when we see a chance to help, we jump in.
United Way - Adopt a Family
Through United Way's Adopt a Family, the CMU Bookstore raises money during the Hoilday Season for a family in need. This employee funded program has been going on every year since 2011. From Penny Wars to Pies in the face, our Bookstore crew has been passionate about raising money to give a family presents for the holiday.
On-Campus Donations
From Mainstage to Football Games, the CMU Bookstore is proud to support everything CMU. The Bookstore supports on-campus programs and departments with a variety of donations. We love CMU and are proud to help and support our fellow Chippewas.
Coloring for Cancer
In a charitable initiative led by the CMU Bookstore as part of Cancer Awareness, Central Michigan Coaches wore shoes designed by children at CMU's Child Development & Learning Lab during pre game and game festivities on Oct. 17, 2016. The white shoes were colored Maroon & Gold by the children. The game-worn shoes were auctioned. Half of the proceeds went to the Child Development & Learning Lab and the other half went to the University of Michigan Health Systems Head and Neck Cancer Program, a charity designated by Head Coach John Bonamego.