Holiday Shipping Information
Our guide to making your holiday a success
The CMU Bookstore will close Friday, December 20th at 5:00pm and reopen Monday, January 6th, 2020. We will ship all orders submitted by 12:00pm EST Friday, December 20th, 2019.
If you would like to guarantee delivery by December 25th, please select Second Day on Thursday, December 19th or Next Day when checking out on Fiday, December 20th, 2019. There are no deliveries on Saturday, Dec 21st or Sunday, Dec 22nd.
Orders will continue to be accepted online, but will not ship until we resume normal shipping on Monday, January 6th, 2020.
Please note—as Central Michigan residence halls are closed, UPS will not resume delivery of packages to them until after January 6th, 2020.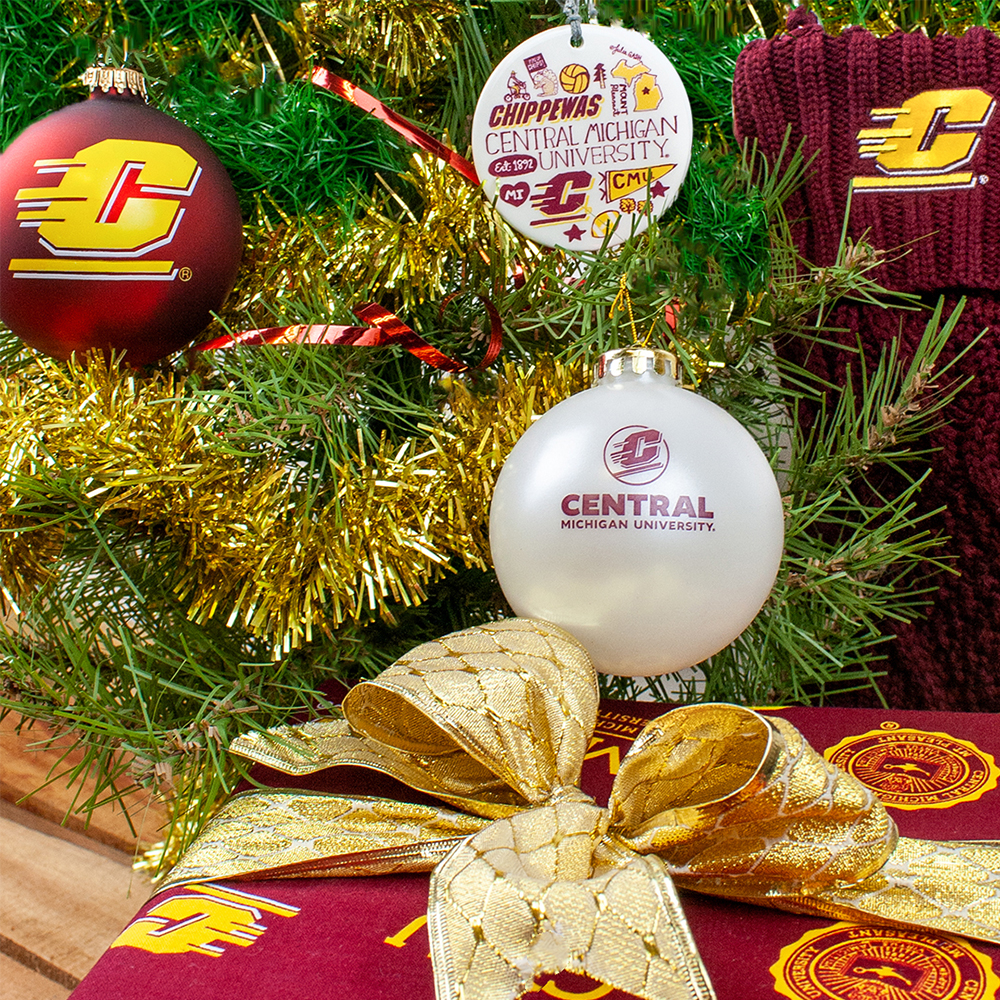 Shipping Information
Policies
We do our best to ship orders as soon as they are received; however:

Our UPS pickups are on weekdays at 3pm.
Textbooks may take up to 2 business days after the order is placed to process
General merchandise may take up to 1 business day after the order is placed to process

Deliveries are made during normal business days (deliveries are not made on Saturdays)
Due to duty fees, we are unable to ship internationally, including Canada. We apologize for the inconvenience.
Unfortunately, we do not ship to P.O. Box addresses.
We cannot ship Next Day to APOs.
Free UPS Shipping over $75 on Clothing and Gift Orders
We offer Free UPS Ground for purchases $75 or more on clothing and gift orders only. Must reach $75 after discounts and before shipping and tax is applied. Select Free UPS Shipping over $75 at checkout.
Excludes Textbooks, Diploma Frames, Wooden Chairs, Technology Items, Gift Cards, and Custom Orders.
Excludes orders shipping to Alaska and Hawaii
In-Store Pick Up
For In-Store Pickup a Restocking Fee of $10 applies for orders not picked up within 5 days.
Rates
We ship all merchandise via United Parcel Service (UPS).
Gift cards are mailed via United States Postal Service (USPS) for a fee of $1.
For larger item shipments (eg. chairs, canopy etc.) please call 1-800-283-0234, additional shipping fees may be applied.

UPS GROUND
| Order Total | Cost |
| --- | --- |
| $0.00 - $19.99 | $6.95 |
| $20.00 - $49.99 | $7.95 |
| $50.00 - $99.99 | $8.95 |
| $100.00 - $149.99 | $9.95 |
| $150.00 - $199.99 | $10.95 |
| $200.00 - $249.99 | $11.95 |
| $250.00 - $299.99 | $12.95 |
| $300.00 - $349.99 | $13.95 |
| $350.00 - $399.99 | $14.95 |
| $400.00 - and up | $16.95 |

UPS 2ND DAY
| Order Total | Cost |
| --- | --- |
| $0.00 - $99.99 | $19.95 |
| $100.00 - $199.99 | $24.95 |
| $200.00 - $299.99 | $29.95 |
| $300.00 - $399.99 | $34.95 |
| $400.00 - and up | $39.95 |

UPS NEXT DAY
| Order Total | Cost |
| --- | --- |
| $0.00 - $99.99 | $26.95 |
| $100.00 - $199.99 | $36.95 |
| $200.00 - $299.99 | $46.95 |
| $300.00 - and up | $56.95 |

NEXT DAY (ALASKA/HAWAII ORDERS MUST CHOOSE THIS OPTION)
| Order Total | Cost |
| --- | --- |
| $0.00 - $49.99 | $30.95 |
| $50.00 - $99.99 | $40.95 |
| $100.00 - $149.99 | $60.95 |
| $150.00 - $199.99 | $80.95 |
| $200.00 - and up | $100.95 |