College Recognition Is Changing
Central Michigan University recently joined the wave of College and Universities that are offering a new way to display your college accomplishment and school spirit, all in one piece. In the past there were two options available, but they covered separate segments. Framing your Diploma covered the academic component, while a class ring covered the school spirit and athletic component.
Times have changed. Enter the Uploma™. Designed by Titlecraft Inc., a high-end maker of trophies and awards located in the U.S.A., the Uploma™ converts your academic recognition, school spirit and/or athletic participation into a three dimensional, desktop Diploma. Not only is it engraved with your name, graduation year, and area of study, the Uploma™ can also capture notable accomplishments, club affiliations, awards, etc. that were important to you during your time at Central Michigan University.
The Uploma™ converts your performance into an award. It is an Emmy per se, recognizing your years of effort, hard work, and perseverance. Besides conveying your college experience, it also has a tremendous cool factor. Made from a high-grade, polished, nickel aluminum alloy it immediately makes the recipient stand out. Its nature invites one to pick it up, admire, and hold.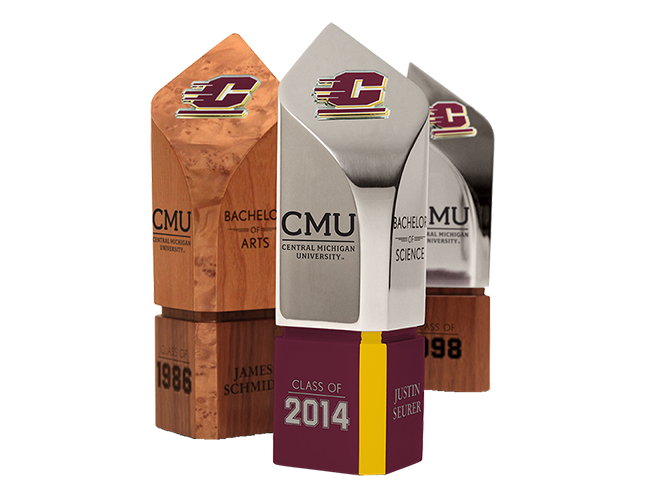 Alumni support is a key component to School success. The Uploma™ is available to all Alumni and provides a vehicle for them to reconnect and support the school. Imagine a family with multiple generations attending the same school. Each can proudly display a Uploma™. Or, maybe you are a rabid fan who wants to show your support and passion in a distinguished manner. Either way, the Uploma™ fits the bill. However, you must have graduated from the Central Michigan University as this detail is verified to ensure exclusivity.